Over the Bed Trapeze
For approximately $15.00 in parts from any hardware store
Contact     Van Advice    Handicap Parking Placards
Suggest Your Own Helpful Resource
<![if !vml]>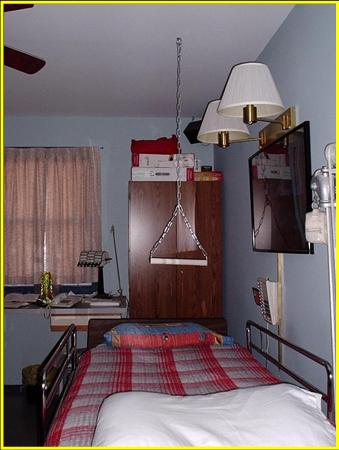 <![endif]>Large View of Ceiling Mounted Trapeze
Close up View of Ceiling Mount
Over the bed trapezes can be very expensive if purchased from a surgical supply store. This trapeze was assembled using $15.00 in parts purchased from Home Depot.
Parts:
(1) 5' of chain, (2) 1' of PVC pipe (1" diameter), (3) a long "eye-hook" bolt with large washers and lock-nut, (4) heavy duty clip, and (5) a single chain link (that can be opened and closed).
How It's Assembled:
The "eye-hook" must be mounted in a beam within the ceiling (similar to a ceiling fan).  The "eye-hook" should be positioned where the center of your bed sits (bed-width).  I've found that 2' from the head of the bed is a good height.
After that, use the clip to attach the chain to the eye-hook at the ceiling. Then at the bottom of the chain thread the PVC pipe with the chain. Attach the chain to itself with a closeable chain link (forming a triangle). Adjust the chain as necessary for desired length.
If you've tried making this trapeze please let me know how it's worked for you, or if you have any questions feel free to ask.
Contact     Van Advice    Handicap Parking Placards
Suggest Your Own Helpful Resources on Our Message Board
View Helpful Resources - Suggest a Helpful Resource