<![if !vml]>

<![endif]>
Parking a Wheelchair Accessible Vehicle Can Be Difficult
About These Parking Placards  -  Contact   -   Van Advice
<![if !vml]>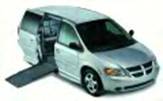 <![endif]>
<![if !supportLists]>

<![endif]>Whether you drive a full size van equipped with a wheelchair lift or a mini van with a ramp, parking your vehicle in a position with adequate clearance is essential.
<![if !supportLists]>

<![endif]>State issued "Handicap Parking Permits" are wonderful, but they do not explain to the ticket officer why your vehicle is parked in a position which may seem odd to understand.
<![if !supportLists]>

<![endif]>Have you found yourself parking the opposite way on the street in order to lower your wheelchair lift; at the curb in shopping centers, or at the end of a parking row in order to operate your wheelchair lift or ramp? Some of the most common hindrances to lifts and ramps are: trees, uneven ground, inadequate space, telephone poles, fences, mud, other vehicles, and so on.
<![if !supportLists]>

<![endif]>As an individual who drives from his wheelchair, the creator of these placards has often found himself needing to explain why his vehicle was parked in such unique positions. It was for this reason that he created a placard (® - patent pending) which he uses in his own van and thought might be helpful for other individuals in his same situation.
<![if !vml]>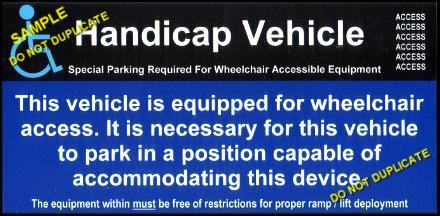 <![endif]>
<![if !supportLists]>

<![endif]>This "Blue" placard (approx. 9"x6") is instantly recognized by the internationally used "handicap" symbol. It is encased in an extremely durable, heavy gauge laminate casing.  This eye catching placard immediately notifies others to your special needs, and eliminates confusion about why your vehicle may be parked in a unique manner.
* Image of Sample Placard may appear blurred due to scanning.
<![if !supportLists]>

<![endif]><![if !vml]>

<![endif]>Pricing and Ordering Information
These durable laminated placards are sold individually for $5.00 each.
SEND NO MONEY UNTIL AFTER YOU RECEIVE YOUR PLACARD(s).
Shipping and handling is free.
<![if !vml]>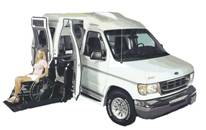 <![endif]>
<![if !supportLists]>

<![endif]>Order Your Placard
Please email the following information:
(1)  Your Name (First, Last)
(2)  Street address
(3)  City, State, Zip
(4) Please specify: "Blue" , "White" or "Wheelchair Transfer"
(5)  Number of placards you are ordering
After you receive your placard(s), mail your check or money order to the address provided.
As a quadriplegic, these placards not only allow me to help others meet a need which I experience
first hand everyday, but also to earn a living as a disabled individual. Thank you for your order.
About These Parking Placards - Contact - Van Advice
NOT A STATE OR GOVERNMENT APPROVED HANDICAP PARKING PERMIT
This placard does not imply handicap parking privileges or rights.