HELPFUL LINKS FOR YOUR SPECIAL NEEDS
Mobility Programs – Dealers – Equipment - Organizations
<![if !vml]>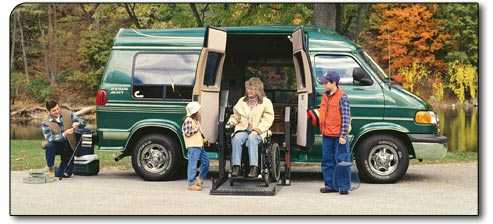 <![endif]>
Help others making a similar purchase.
View other's advice   Share your experience
Home Page – Before Purchasing a Wheelchair Modified Vehicle
Abilities Expo – Vehicles, Modifiers, Equipment, Independent and assisted living products and services, displayed at six shows throughout the United States.
Portable Wheelchair Ramps – Maybe you don't need to spend thousands of dollars of modifying a vehicle for a non-driver.
Drive-Master dealers nationwide – Locate a certified vehicle modifier in your area.
Ford Mobility Motoring Program - Ford Mobility Motoring offers financial assistance towards the cost of the installation of adaptive equipment on a new Ford, Lincoln or Mercury vehicle.
General Motors Mobility - Up to $1,000 reimbursement for eligible aftermarket adaptive equipment.
Dodge – "Automobility" Mobility Program
First Mobility Aft of Axle Fuel Tank System – When the floor on a Ford van is lowered the gas tank must be relocated to behind the axle
EZ Lock – Wheelchair lockdown system
The Braun Corporation – Vehicle Lifts / Conversions
Ricon – Vehicle Lifts
Vantage Mobility - Wheelchair accessible vans
Adaptive Driver Alliance - The Adaptive Driving Alliance is a nationwide group of vehicle modification dealers who provide van conversions, hand controls, wheelchair lifts, scooter lifts, tie downs, conversion van rentals, paratransit and other adaptive equipment for disabled drivers and passengers.
Eclipse Conversion Vans – Modified vans (Brand carried by most vehicle modifiers).
Chariot Vans - Mobility van conversions
Mobility Products & Design - Ergonomic driving controls
Q'straint Wheelchair Tie Downs - Wheelchair Tie-Downs and Occupant Restraint Systems for Use in Motor Vehicles
Mobility Van Sales - A free handicap van classifieds service which enables handicapped drivers to place their vehicles for sale with highlighted handicap accessible features & modifications.
Share your helpful link with us - Have a helpful link that you would like to share? Post it on our message board.
Contact / Questions   -   Before Purchasing a Wheelchair Modified Vehicle